Millstream Area CU
We'd love to hear from you!
Please give us a call at:
(419) 422-5626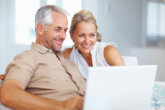 Senior Checking
Our members age 60 and older can take advantage of a checking account that earns competitive dividends. Plus, you get extra perks like free checks, unlimited check writing, and even a 0.25% APY increase on any certificate rate on deposits of $5,000 or more!
Summary

Dividend-bearing checking account
Dividends paid quarterly
Unlimited check writing
No minimum deposit to open
Courtesy Pay available
APY=Annual Percentage Yield. 0.25% rate increase does not apply to certificate specials.