Millstream Area CU
We'd love to hear from you!
Please give us a call at:
(419) 422-5626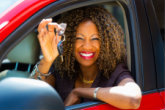 Auto Loans
Whether you're purchasing your first vehicle or need to upgrade to a newer model, we have competitive rates, flexible terms, and all decisions are made locally.
We'll give you pre-approval for better buying power and can save you money when you refinance. Bring us your old, tired loan from another financial institution, and our Financial Service Officers will give it a makeover! We also offer discounted CarFax reports; this added bonus will give you peace of mind when deciding on your next vehicle purchase.
Summary

Flexible terms and competitive rates
Financing available for new or used vehicles
Pre-approval available for better buying power
Apply in person, online, or by phone
No prepayment penalty
Payment protection available
Discount CarFax reports available
Friendly, experienced loan advisors
Local decision-making
Personal service for the life of the loan
Credit qualifications, terms, and conditions apply.