Millstream Area CU
We'd love to hear from you!
Please give us a call at:
(419) 422-5626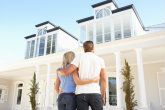 Mortgage Loans
When it's time to buy your first, second, or vacation home, Millstream Area Credit Union is here for you.
Our Mortgage Loan Originator, Ann Tong (NMLS ID 506936), is here to answer questions and will be right by your side through the entire process—helping to move the loan quickly yet clearly for you.
Are you a first time home buyer? We offer online classes, brochures, and additional tools to keep your loan on track. This allows us to contact you via email, phone, or whatever communication method works best for you. We make the process work into your already busy schedule.
Click here to view our First Time Home Buyer tips page.
With competitive interest rates and terms up to 30 years, we can offer a monthly payment that will meet your budget needs. Contact Ann Tong at 419-422-5626 ext 120 or [email protected] to begin your dream today!
First Time Home Buyer

3% down payment
Entire down payment can be gifted by a relative
No PMI options available
Access to educational guidance tools and resources
First Time Home Buyer Specialist available to assist you

USDA/Rural Development

No down payment required
Closing costs can be included in loan
Non-traditional credit is accepted
Low interest rates

FHA

3.5% down payment
Entire down payment can be gifted by a relative
Credit scores down to 600 (with 12 month rental history with canceled checks)
Allows for higher debt-to-income ratios

Conventional

3% down payment
10, 15, 20 and 30 year terms available
Cash out refinance available

VA

$0 money down
Great rates for current or retired veterans

Conventional-No Closing Cost

No out-of-pocket closing costs
30 year fixed term
Can be used for the purchase of owner occupied home and investments
Perfect for members looking to pay less up front
Credit qualifications, terms, and conditions apply. Millstream Area Credit Union is registered with the Nationwide Mortgage Licensing System (NMLS ID is 393171).