Millstream Area CU
We'd love to hear from you!
Please give us a call at:
(419) 422-5626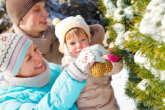 Christmas Club
The holidays can be an expensive time of the year, but if you plan ahead you can forget the financial stress! With a Chirstmas Club, you can put a little bit of money aside throughout the year and avoid having to finance your season's festivities with a credit card. Your Christmas Club account funds can be transferred into your checking or savings account or remain in the Christmas Club until you withdraw.
Summary

No minimum deposit to open
An easy way to save for the holidays
No monthly service fee
Competitive dividends paid quarterly
Low average daily balance of $100 to earn interest
Funds disbursed annually on November 1st
No withdrawal penalty between November 1st and December 31st
Payroll deduction or direct deposit available