Millstream Area CU
We'd love to hear from you!
Please give us a call at:
(419) 422-5626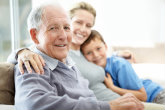 Individual Retirement Accounts (IRA)
It's never too soon to prepare for the future. Whether you're thinking about college tuition or retirement, we offer a variety of IRAs, each with its own special tax advantages. Stop in and ask one of our IRA specialists to help you chose the best option for your specific retirement or education goals.
Traditional vs Roth IRAs

Traditional IRA

No income limit to open
No minimum contribution requirement
Contributions are tax deductible on state and federal income tax
Earnings are tax deferred until withdrawal
Withdrawals can begin at age 59½
Early withdrawals subject to penalty
Mandatory withdrawals at age 70½

Roth IRA

Eligibility depends on income limits
Contributions are not tax deductible
Earnings are 100% tax free at withdrawal
Principal contributions can be withdrawn without penalty
Withdrawals on dividends can begin at age 59½
Early withdrawals on earnings subject to penalty
No mandatory distribution age
No age limit on making contributions as long as you have earned income

Coverdell (Educational) IRA

Don't be caught unprepared when it comes to funding your children's education. A Coverdell account offers the perfect opportunity to save for educational expenses, with a variety of terms to choose from to meet your specific needs. Restrictions apply, so contact a member services representative for details.

Save to fund your children's education
No setup or annual fee
Dividends grow tax-free
Contributions may be tax deductible
Withdrawals are tax-free when used for qualified education expenses
May be used for elementary, secondary, or college education
Subject to some minimal conditions. Consult a tax advisor. Certain exceptions apply, such as healthcare, purchasing first home, etc.