Millstream Area CU
We'd love to hear from you!
Please give us a call at:
(419) 422-5626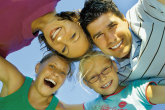 Kids Club Savings
Learning about finances at an early age is important. That's why our members age 12 and younger are automatically enrolled in Kirby the Kangaroo's Kids Club! They receive a welcome packet for opening an account, a free gift whenever they make a deposit, and the initial minimum deposit of $5 is on us! Plus, they can visit Kirby's website to find cool educational activities that will make saving even more fun!
Summary

No minimum deposit to open
A fun way to teach kids about savings
Available to members age 12 and younger
Fun activities for all ages on Kirby's website