Millstream Area CU
We'd love to hear from you!
Please give us a call at:
(419) 422-5626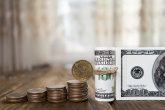 Money Market Account
Money Market Accounts earn a higher rate of return than savings accounts and you still have easy access to your funds whenever you need them. Plus, the more you deposit, the more you earn! Treat yourself and open a Money Market Account to start earning more on your deposits today!
Summary

No minimum deposit to open
Competitive, tiered rates
Higher balances earn higher rates
Enjoy flexibility with enhanced access to funds
Up to six (6) withdrawals per month
Minimum withdrawal of $500 requirement