Millstream Area CU
We'd love to hear from you!
Please give us a call at:
(419) 422-5626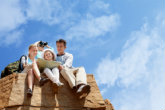 Special Savings Accounts
Open a special share savings account and get the flexibility to save for tax season, school season, for weddings or parties, vacations, or anything else. The accounts work the same way as the regular share savings and you can personalize your account name through online banking.
Summary

No minimum deposit to open
No monthly service fee
No minimum balance required
Free 24-hour access through MARS (Millstream Audio Response System)

Payment Savings

Stop waiting for the end of the month, writing checks, stressing over paying on time, or spending your bill money by accident. Open a savings account that is perfectly tailored to your financial needs!

With these accounts you can set up direct deposit, and then make automatic payments to your Millstream Area CU's loans or credit cards without any hassle.