Millstream Area CU
We'd love to hear from you!
Please give us a call at:
(419) 422-5626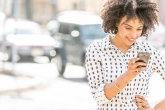 CardValet
With CardValet, you can control the Millstream debit and credit cards in your wallet with the phone in your pocket. If you can't find your card, you can instantly lock it to prevent fraudulent charges from being made and unlock the card when it turns up. You can also set spending limits, get purchase alerts in real time, limit transactions to a certain area using your phone's GPS, all while having the ability to personalize your own security settings to suit your busy lifestyle.
Download the app for your iPhone or Android:
Summary

Get real-time notifications when your card is used
Restrict transactions to a certain area using your phone's GPS
Set security preferences to match your spending habits for every card
Set spending limits for every transaction
Enable or disable your cards to be used within certain merchant categories such as gas and groceries, hotel and travel
Lock and unlock cards with a few taps on your smartphone
© 2017 Fiserv, Inc. or its affiliates. CardValet is a registered trademark of Fiserv, Inc.