Millstream Area CU
We'd love to hear from you!
Please give us a call at:
(419) 422-5626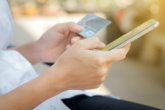 Mobile Wallet
Apple Pay, Google Pay, & Samsung Pay
Apple Pay, Google Pay, and Samsung Pay turn your phone into your wallet so you can speed through checkouts using just your phone!
When you add your Millstream debit card to your Apple Pay, Google Pay, or Samsung Pay app, further authentication from the credit union may be required.
If you need further assistance, call us at (419) 422-5626 during business hours to speak with a credit union team member. You may call after business hours, choose option 6, and follow the phone prompts to be directed to an after-hours support line.
Click your app below to learn how to add your Millstream debit card and how to checkout at stores: